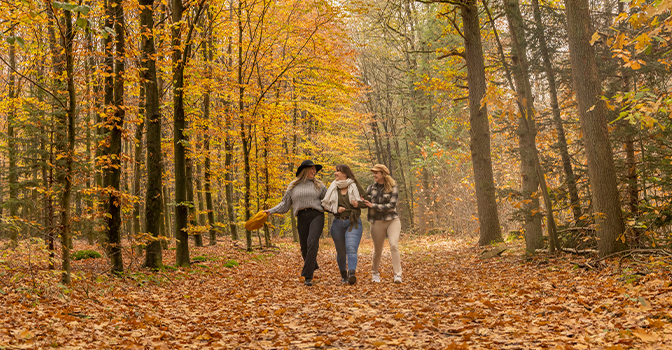 Zaterdag 15 oktober 2022, Amy
Beautiful colored leaves falling from the trees, the scent of humid soil, and mist covering the endless landscapes. Fall is such a wonderful and romantic season in the Netherlands and must be seen, smelled and felt! Away from the summer crowds, there are many ways to seek out peace and quiet this season, from the greatest city trips to long walks surrounded by lovely nature. With a trip to one of our more than 110 Fletcher Hotels, this will be your most beautiful fall ever.
​

Take a walk in the woods or a park during autumn
The most obvious thing to do during the Fall in The Netherlands is of course going for a walk or a bike ride. Not without reason though! The landscapes turn into beautiful colors, the air is crisp and the reward is a delicious cup of tea with a piece of apple pie. Sounds good, right? 
Visit a pumpkin farm 
Visiting a pumpkin patch in The Netherlands is still not very common, although many of the Dutch are warming up to the American tradition. Many farmers display their pumpkins for sale and make it a fun activity. Apple picking is also possible at some locations. So for the real fall lovers, a better day out is almost not likely. 
Taste autumn 
The Dutch people are very big on traditional and seasonal foods and treats. The fall has many lovely dishes that are a must try! Venison, also known as game, is one of those typical Dutch traditions. The hunters go out to hunt the game and the chef prepares delicious dishes from it. The Game Season starts on October 15th! From this date you can also go to our selected Fletcher restaurants for a culinary 3-course Game menu. The content of the menu differs per restaurant.
Something you also can't miss are the stamppot (mashed potatoes with vegetables also mashed in) and the erwtensoep (pea soup). You will know why once you try it. It's such a comfort food perfect for fall. The Dutch are of course known for their sweets, and there is plenty. So knock yourself out!
Visit the most beautiful beach spots
Visiting the beach is a nice outing to do during the autumn holidays. The Netherlands has a coastline of more than 50 kilometers, so you no longer have to go abroad for a beautiful beach walk In autumn the wind is not as icy cold as in winter, ideal to get a breath of fresh air. After an autumn day on the beach, it's time to warm up with a delicious hot chocolate with whipped cream or a nice hot shower.
Book a High Tea this Autumn
In the autumn period it is ideal to book a High Tea with your family or friends. When the rain of the autumn storm clatters against the windows outside, it is wonderful to sit down in a Fletcher hotel for a cozy High Tea. You do this while enjoying tasty savory snacks and of course a warm cup of tea. A High Tea at Fletcher can be done at more than 100 locations throughout the Netherlands.