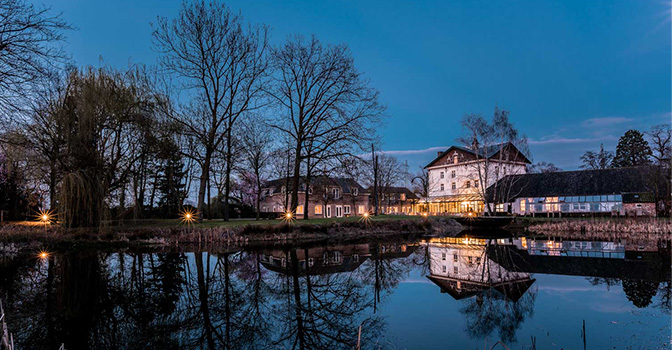 Leestijd: 2 minuten en 10 seconden
Woensdag 24 mei 2023, Luca Liz
From 1 March 2023, the doors of Fletcher Hotel Château De Raay are opened! Waking up in a charming 13th-century castle hotel in the middle of soothing nature, who wouldn't want that? Surrounded by a large garden, the hotel is located on a beautiful estate in Baarlo, Limburg. With the two astonishing cities Venlo and Roermond on a close distance, the area of the hotel is a shopping's paradise. Getting curious about what else Fletcher Hotel Château De Raay has to offer? Read on and get inspired!
​

Spending the night in Baarlo
All of the comfortable hotel rooms are charmingly furnished and fully equipped. They range from small, comfort and luxury double rooms to family rooms, castle suites and even bridal suites! The luxury rooms ensure that you can relax and unwind! The rooms are suitable for wonderful overnight stays for both couples and families, as well as for both short and long stays, making it perfect for a weekend getaway. Curious about the type of rooms we have to offer? Check them out on the hotel website!

Inside the castle
There are plenty of reasons to stay inside the castle. For example, you can sit down and have dinner in restaurant 'De Tuin van de Barones', where you can enjoy a wide variety of dishes under a beautiful roof of glass. When it is dark outside, you can even admire the impressive starry sky from here. In addition, the hotel has various facilities such as a gym and a professional jeu de boules court.
Outside the castle walls
For the adventure seekers who want to explore the area around the hotel, there is something for everyone. For example, you can hike through the surrounding forests or rent an e-bike at the reception of the hotel and then take a beautiful trip along the Maas River, Limburg's largest river. Nature lovers can choose to visit the National Park De Maasduinen or nature reserve De Peel. Both parks are nearby. For shopping lovers, there is Designer Outlet Roermond where shopping fun is guaranteed. Looking for a fun family day? Theme park Toverland is a must visit for the kids.

A royal business meeting
Are you looking for a unique and inspiring meeting location that meets all the requirements to make your meeting a success? Then Fletcher Hotel Château De Raay is the place to be! A beautiful location with rooms where you can still find the historical elements of the 13th century castle. With access to 10 unique meeting rooms, each offers its own characteristic features. A multi-day meeting in mind? Fletcher Hotel Château De Raay has 50 luxurious and comfortable rooms, ideal for relaxing after a busy day or an inspiring meeting!
Easy accessible
Fletcher Hotel Château De Raay is a 20-minute drive from the vibrant city of Venlo. The castle is also easy to reach by public transport, there is a bus stop just a 2-minute walk away. Near our attractive castle are enough available parking spots which you can use for free.
See you soon!
After reading this, do you feel like enjoying the cosiness and tranquillity of Fletcher Hotel Château De Raay? Check out the arrangements here and we hope to see you soon!