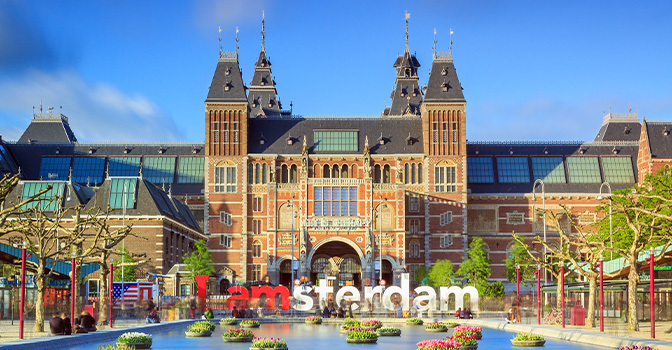 Leestijd: 3 minuten en 30 seconden
Maandag 8 mei 2023, Luca Liz
As a vibrant city of culture, Amsterdam has an original and diverse range of museums. Visit Fletcher Hotel Amsterdam in the Netherlands and discover all the museums the city of Amsterdam has to offer. The city offers more than 75 types of museums, each more beautiful and impressive than the other. The different museums are full of art, history and much more. There is always a museum that suits you! Due to the wide range of museums in Amsterdam, making a choice can be quite difficult. We would like to help you make this choice easier by highlighting a few museums in this blog. Curious about which museums in Amsterdam are our favourites? Then read on!
​

Rijksmuseum
If you are a fan of museums, don't skip the Rijksmuseum! There is always something new to discover in this historic museum and you will find yourself in the story of 800 years of Dutch history from the year 1200 to the present. The collection offers a broad overview of Dutch art and history including works by 17th century Dutch painters such as Rembrandt, Vermeer and Hals. Surely the most famous painting in the Rijksmuseum is "De Nachtwacht", but there are so many more unique paintings to admire in the Rijksmuseum! A feast for the eyes.
Van Gogh Museum
Located on Paulus Potterstraat and Museumplein in Amsterdam is the well-known Van Gogh Museum. Get to know the life and work of Vincent van Gogh at this beautiful museum. Discover more about his life, read his letters, view his drawings and definitely don't forget to take a pause on his beautiful masterpieces! Always been curious about Van Gogh? This Amsterdam museum offers you a unique insight into the life of one of the most famous Dutch painters.
Anne Frank Huis
The well-known Anne Frank House is a museum in Amsterdam, in memory of Anne Frank and her Jewish family who were hiding during World War II. As a visitor, you will experience this impressive story through photos, quotes, original objects and videos. During a visit you will walk through the house where Anne Frank and her family lived during the war. You can also admire her world-famous diary. A visit to the Anne Frank House is a must if you spend an afternoon in Amsterdam!

NEMO Science Museum
At NEMO Science Museum, everyone from young to old discovers how beautiful and interesting science and technology are. The museum offers five floors full of exhibitions, experiments, demonstrations and workshops. At the museum, visitors experience how extraordinary everyday things can be! As a visitor, you never got so close to science before. The museum's motto is "Hands on", so count on being able to get involved yourself. Every year, the NEMO Science Museum attracts an average of 670,000 visitors, making it a well-known attraction in Amsterdam and the Netherlands.
Museum Rembrandthuis
The only museum in the world entirely dedicated to the famous painter Rembrandt is the Museum Rembrandthuis. You will find the museum in the heart of Amsterdam and the name says it all. Between 1639 and 1658, the Dutch painter himself lived in this house and had his studio and art shop here. You therefore walk through Rembrandt's living and working quarters in this museum. From the living room and art room to the studio where he created his masterpieces. While visiting the Rembrandthuis Museum, you will wander through the life of Rembrandt and discover some of his secrets throughout his art.
Heineken Experience
Besides visiting the most famous masterpieces of Dutch painters, of course a tour of the world's most famous beer brand cannot be missing from your bucket list. In the Heineken Experience, you get to taste the story of how a small Dutch brewery grew into the most famous beer brand in the world. A lot has happened during Heineken's 150 years of existence, and you'll get to see it all! Take a look at the brewery where it all started, experience the history of the beer producer and discover the evolution into the global brand that Heineken is today.
Street Art Museum
Big fan of street art? Then stop scrolling and make sure to add the Street Art Museum on your list while exploring Amsterdam. The museum is located near Amsterdam Central Station. The largest museum of graffiti and street art in the world! The more than 7,000 square meter shed is divided like a city to further enhance the street feel. Opening exhibition "Quote from the Street" features 153 artworks by 140 artists of 32 different nationalities. For a unique experience, be sure to visit this museum! You're guaranteed to feast your eyes.

Eye Filmmuseum
In a beautiful cultural center by the water, you will find the Eye Film Museum. In this museum you will discover a huge collection of Dutch and foreign films. The exhibitions contains important film authors, the history and future of experimental cinema and relevant themes from cinema. Of course, children are also more than welcome in the museum. Children from 2 to 6 years old can experience their first cinema visit in Eye's most fun cinema. The Cinemini Room opens every Sunday morning for toddlers, pre-schoolers and their (grand)parents. This is where the children can enjoy film and games in a light-filled landscape. There is enough to experience in this museum for all ages!